News
2016 Pollock-Krasner Foundation Grant Recepient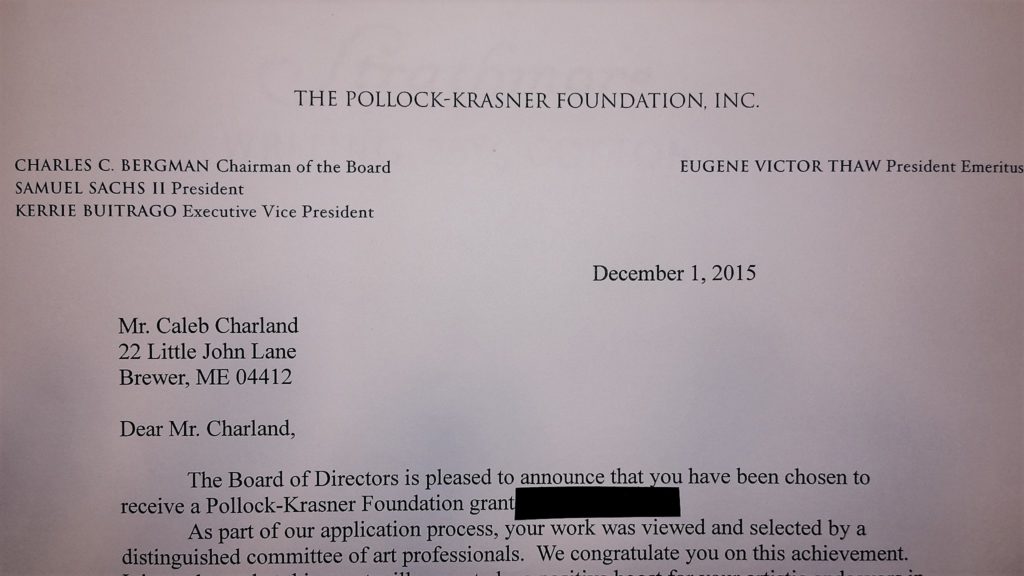 Redshift April 20-June 4 2016 Sasha Wolf Gallery
Feature on Slate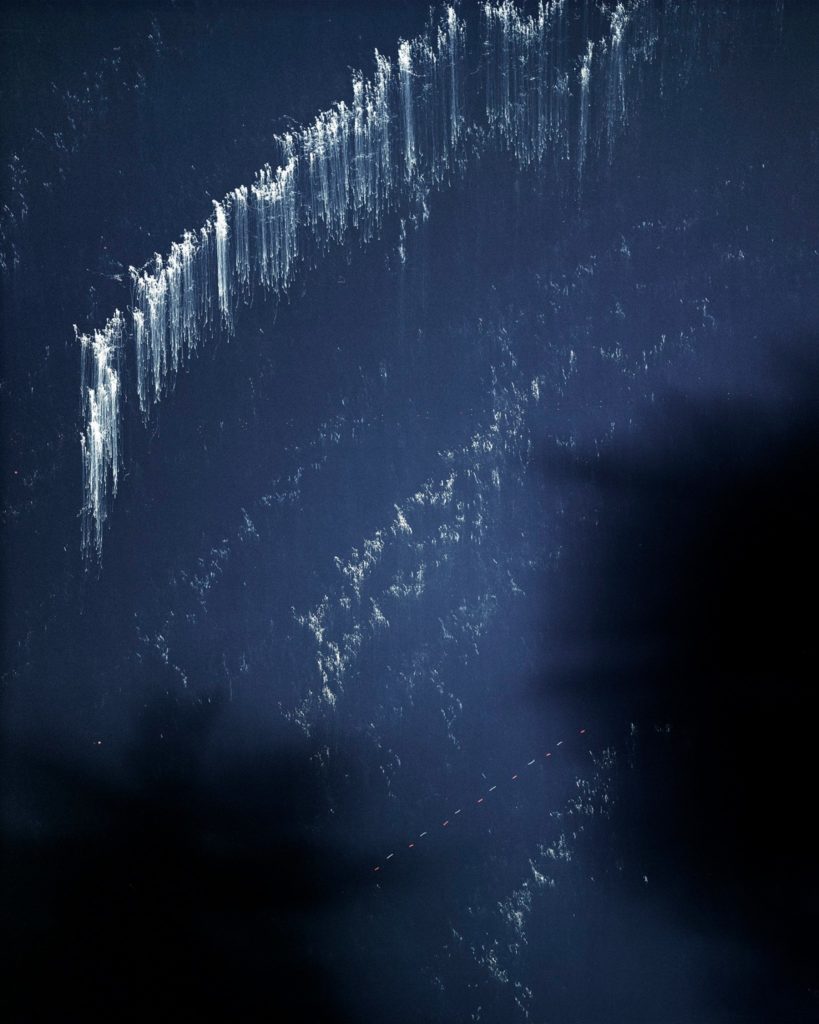 Caleb Charland: Photographing Science

Charland/Stark: Backscatter and Still/Life at Gallery Kayafas By Robyn Day May 29, 2013
We think we know how photographs are made. It's an almost instantaneous assumption that informs our perceptions, to some degree or another, in the gallery and elsewhere. But if you can decipher Caleb Charland or Maggie Stark's processes at first blush, then you must know something the rest of us don't. Because their practice appears to be pure magic. I spent some time at Gallery Kayafas, gazing quizzically at these prints, until director Arlette and her assistant Stephanie were kind enough to divulge a few of the artists' secrets. It wasn't hard to devote my full attention to this work. It's captivating. I had first seen the entry for Caleb Charland's Backscatter in the Flash Forward Festival catalog; or, more precisely, the accompanying photograph Attempting to Paddle Straight at the Moon had immediately caught my eye while flipping through its pages. The description registered later. Unaware of the work's title, I found myself confronted by an abstraction that perceptually morphed into a canoe gliding across a still lake toward a luminous line in the sky, a moon transformed by a long exposure. Charland must have mounted his camera on the canoe, and his attempt to paddle straight forward had become his photographic process. His movement from side to side is captured in the moon, which serves as a measurement of the success of his endeavor. In one sense, that is. Artistically, he is off the charts.
I've come to expect top-notch exhibitions at Gallery Kayafas. They consistently show fresh work that is as conceptually challenging as it is visually striking. But Charland's photographs exceeded my already high expectations. In silver screen parlance, I would put it this way: if you see only one photography exhibition this year, let it be Backscatter. Don't get me wrong, Stark is no slouch either. Her Still/Time series accomplishes the uncanny feat of politicizing minimalist aesthetics. And both bodies of work can be credited with sharing their secrets without revealing them: the secrets of their production, meanings, identifications. Never before have I asked so frequently "What is that?" while marveling at photographs. And then, "How did they do that?" Usually, these are questions reserved for bad art, and for entirely different reasons, as you might imagine.
Charland has an eclectic, versatile style. His photographs range in size from 3.625 by 2.875 inches to 50 by 40 inches. So do his processes. Included in the exhibition are pigment, gelatin silver, contact, and Lambda C-type prints, along with gelatin silver photograms. This isn't ordinarily done, but it works wonders in Charland's case. And when you think about it, that makes perfect sense. His photographs are a kind of exploration into what might be called the scientific miracles all around us. Luckily for us, those miracles turn out to be artistic ones, too. Charland's experiments include the creation of light from potatoes, apples, oranges, lemons and limes. He rigs up the fruit and vegetables to floor and desk lamps, drawing from their electricity to, as it were, power the grid. This affords Charland the opportunity to take chimerical photographs with the power to provoke wonder. Philosophy may begin in wonder, as the adage goes, but it can be one of the more elusive emotions in photography. Not so in Charland's Potato Power, LaJoie Growers LLC, Van Buren, Maine or Apple Trees and LEDs, both long exposures of about 8 and 4 hours, respectively. The star trail in Potato Power tracks the duration, but there is very little motion blur on the ground, just enough to make the dozens of wires strung from lamp to buried potatoes seem almost vinelike. The illusion is enhanced in Apple Trees and LEDs. Wires run every which way from the lightbulb they power to apples in the branches overhead. Only the apples illuminate the leaves above and trammeled grass below.
Charland can make a thumbprint in glue appear to be as expansive, as awe-inspiring as a galaxy. He can make fingerprints resemble star clusters, and the lines in his palms look like constellations. And it's not just that he uses his hands to symbolize the universe; rather, his images could easily be mistaken for those more ethereal realms. Charland's photograms are as explosive as supernovae. But then, everything becomes something it's not in these images. Handheld mirrors are a "study for sun," but look more like silver moons to my eye. Matches become meteor showers burning up in the atmosphere, or is it shooting stars? Cigarette lighters are, possibly, the surface of a star, a "light sphere"? Interpretations will vary, but there is no doubt that these most ordinary of objects assume celestial significance.
Just look up "backscatter" or "Fibonacci," if you're not already familiar with the words, and you'll have a better sense of Charland's angle. And it will help you interpret his formalist piece Fibonacci's Pendulum, which strikes a somewhat different chord than his other photographs. Or find his star fields in the gallery, images Charland has downloaded online (you can see the pixellation) and made his own unique creations by moving water across their surfaces to form nebulae. If you're not curious yet, you will be when you see Charland's photographs.
Feature from Wired Magazine UK January 2013, Courtesy of Wired UK 2013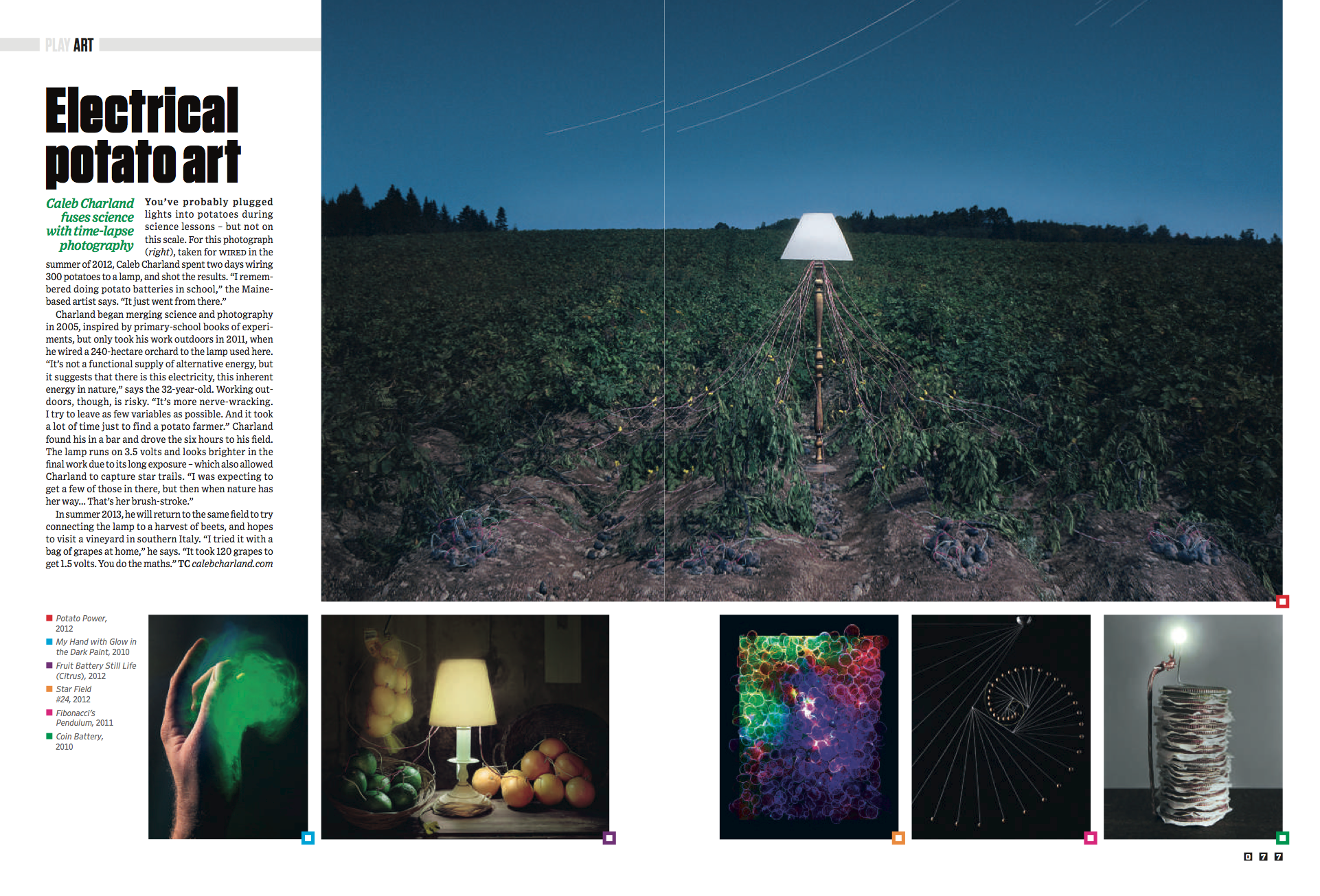 –